Free shipping when you spend $50. Free in-store pick-up!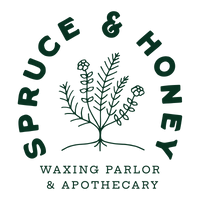 DETOX 'OMA'OMA'O Body Polish
DETOX 'OMA'OMA'O Body Polish
DETOXIFY, exfoliate & purify with the 'OMA'OMA'O body polish to reveal fresh, glowing skin.
'OMA'OMA'O  multi-particle body polish is a unique blend of three natural exfoliants, botanical extracts, raw butters and rare luxurious oils. This combination creates stimulation, deeply nourishes, softens and detoxifies the skin.
Powerful antioxidants help rejuvenates old skin cells , neutralizes uv damage and delay signs of skin aging.
'OMA'OMA'O⟜ GREEN
Once in the shower, use the wooden spoon to scoop some polish into your hand. Apply gently in a circular motion all over the body. Application on dry skin will create more intense exoliation, and on wet skin, softer.
Rinse off  while continuing to massage your body. As the polish emulsifies, dry off gently. 
Follow with the body oil, applied to WET skin.
Do not allow water to enter the jar, as water hosts bacteria which can spoil the polish. 
Do not use on broken, irritated skin.
Contains nut oil. Patch test recommended for sensitive skin.
For external use only.
Hawaiian sea salt (Sodium chloride), Sugar* (sucrose), MACADAMIA nut oil* (Macadamia integrifolia), SHEA butter* (Vitellaria paradoxa), caprylic/capric triglyceride, APRICOT kernel oil (Prunus armeniaca), premium japanese MATCHA*(Camellia sinensis), Hawaiian SPIRULINA *(Arthrospira plantesis) powder, PAPAYA leaf (Carica papaya) powder, PASSION fruit (Passiflora incarnata) powder, Cetearyl Olivate, Sorbitan Olivate (olive derived), VITAMIN E (Tocopherol) non gmo, ROSEMARY co2 extract (rosmarinus of cinalis), BAMBOO extract (Phyllostachys Glauca), and a proprietary blend of organic and wild crafted essential oils. 
 *Certified organic
Please note: Our products are made in small batches and with freshly sourced botanical powders. flowers and herbs have different colors depending on time of planting and harvest, along with other factors such as heat and water. Due to this, slight fluctuations in color may occur from batch to batch, even though the formula is the same.